Specification Download:
2 Megapixel 30xZoom 4G Camera model "TS-SD43G"Specification: Download
5 Megapixel 30xZoom 4G Camera model "TS-SD44G"Specification: Download
8 Megapixel 30xZoom 4G Camera model "TS-SD45G"Specification: Download
2 Megapixel 30xZoom WIFI Camera model "TS-SD43W"Specification: Download
5 Megapixel 30xZoom WIFI Camera model "TS-SD44W"Specification: Download
8 Megapixel 30xZoom WIFI Camera model "TS-SD45W"Specification: Download
4G Camera and WIFI Camera Explanation
– 4G Version Camera Option: Only work 3G/4G SIM-card,there will be more occasions to use it
– WIFI Version Camera Option: Only work with WIFI router in the coverage of 2.4G network,support Lan Cable connect with router
Optimized 30XOptical Zoom 4-94mm lens 
The motorized zoom lens with auto-focus function in the 30X zoom PTZ security camera can achieve a wide viewing angle. It allows you to zoom in to see more details of more objects without getting closer, or zoom out to get a larger and larger view.
Color night vision is up to 80m
Built-in 8pcs infrared Array LEDs, bringing you color and clear image effects,up to 80m.color night vision up to 80 meters, black and white night vision up to 80meters.
Immersive 2MP/5MP/8MP Super HD
Having a high resolution of real 2MP/5MP/8MPFull HD to choose, security IP camera can capture cryctal clear videos, you can see more valuable details to identify people, vehicles and more objects all day.
H.265 video compression
Save you more storage space and bring you a smoother viewing experience
AI Auto Tracking Motion
Having the function of motion detection , the camera can provide you with 24/7 protection. When motion is spotted, you will receive an instant alert to know that someone is approaching your home.
Real-time Alerts For Emergencies
Automatically detect moving objects and trigger alarms when danger occurs. Effectively protect your home and business from the loss caused by the intrusion . If a suspicious situation is found, you will receive an alert in real time.
Support TF card Service
Max Support 128G TF card recording ( TF Card is option ) ,data security is more stable .
Support 8 Preset Points
You will get a camera with 8 Preset Points set, which will make the camera quickly locate the preset points, meanwhile the zoom lens status can be saved during the preset.
Pan, tilt and zoom capabilities for wide area coverage
The PTZ security camera has a panning function and can rotate 355° horizontally at high speed. The 90° tilt rotation can achieve reliable home and business monitoring without vertical limitation and "dead zones"
Waterproof design enables excellent outdoor surveillance
Owing to its high-quality Metal Shell engineering material and professional waterproof design, your camera will work at a temperature of -30°~55° normally whether is in rainy or snowy day.
Real-Time Two Way Audio Communication
You will get a camera with microphone and speaker. You can talk with your family at any time, anywhere like working, traveling, or on a business.
Multi-user use
Multiple device connection schemes
Support Andriod/IOS APP and Computer remotely view anywhere anytime !
Outdoor Home Security Speed Dome Camera
Security Camera All-metal Case can be used in rainy, Snow, thunderstorms,For Home,School,Store,Yard,Fish pond,Field You may place it anywhere!
APP: Camhipro
PC software: HiP2P Client
How to add the camera through HiP2P software?
1. Choose to input UID, the UID information of the camera is on the box of the camera.
2. Input the UID of the camera. Username: admin , Password: admin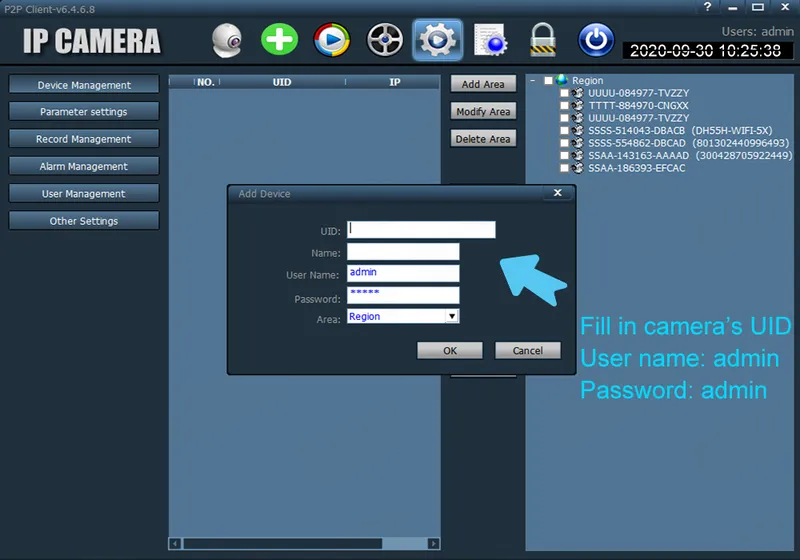 3. Real time monitoring
4. Functions setting interface